This Compass is a great gift for your loved ones. The lovely message, beautifully laser engraved on the compass is specifically designed for you to express your love in the most subtle way.

The message is the perfect combination of a heartfelt message with just a bit of humor.
"TO Wy Daughter
Wherever Your
Journey In Life May Take You
I Pray You'Ll Always Be Safe
Enjoy The Ride
And Never Forget
Your Way Back Home
I'M Always Here For You"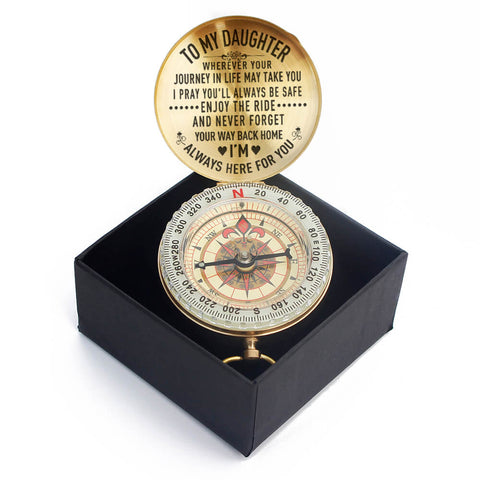 Make an ideal gift for some special occasions such as Birthday, Anniversary, Christmas, etc.
Surprise she and let him know how much she is loved with this beautiful gift.
It becomes quite easy to express your love... only until you find out about this brass compass gift idea.

Make your gift look nicer with a handmade gift box. Simply select the available option "Buy with handmade gift box +$3" before adding to cart or "Buy With Handmade Gift Wooden Box +$5".
FEATURES:
Product weight: 52g
Product size: 48mmx13mm
Pure copper to create a stylish pocket watch styling flip waterproof 360-degree rotating compass
This compass has a luminous function after light irradiation, and the built-in damping oil works at a temperature of minus 20 ° C to 50 ° C.
The Method Used By The Compass:
 The compass must be held horizontally so that it can rotate freely.
The W on the dial represents the west, N stands for North, E stands for East, S stands for the south
The red on the pointer is the N pole, The white is the S pole.
Do not approach the ferromagnetic object when using the compass. High voltage lines and electromagnetic devices, etc., to avoid errors and reduce compass sensitivity.
You will receive your order within 10-15 business days. 
We offer a 30-day 100% satisfaction guarantee.
Tips: Buy 2 or more to get FREE SHIPPING.